Patty and I went to one of the best theaters for dance, the Joyce Theater, to watch one of the best companies today, the Pacific Northwest Ballet (Peter Boal, artistic director), perform three pieces.
Tide Harmonic
Music: Joby Talbot ("Tide Harmonic," 2009; arranged 2013)
Choreography: Christopher Wheeldon
Costume Design: Holly Hynes
Lighting Design: Randall G. Chiarelli
Dancers: Lindsi Dec, Margaret Mullin, Laura Tisserand, Elizabeth Murphy, Jerome Tisserand, James Moore, Batkhurel Bold, Joshua Grant
Premiere: May 31, 2013
Four couples dressed in blue costumes – the men in blue tank tops and tights and the women in blue legless tanks with small bits of chiffon – move, slide, and turn around the stage as they portray water and its energy and the forces that act upon water.
The best move was when the men would hold the women and the women on their toes would be pushed backwards. Watching them glide along the floor looked so beautiful and effortless. Other times the dancers whirled and swept up and down.
The piece was graceful at times and then rough and chaotic as the water flowed smoothly or was tossed about.
Memory Glow
For Ana, may love and the inspiration behind every little magic moment in this work.
Music: Alexander Desplat (Syriana), David Lang ("Little Eye" from Child), Cliff Martinez ("The Cabin" from The Company You Keep), Atli Orvarsson ("A Single Shot"), Max Richter ("Berlin By Overnight" and "Vladimir's Blues"), Teho Teardo ("The Model Policeman")
Choreography: Alejandro Cerrudo
Costume Design: Mark Zappone
Lighting Design: Randall G. Chiarelli
Dancers: Leah Merchant, Charles McCall, Elizabeth Murphy, Raphaël Bouchard Angelica Generosa, James Moore, Steven Loch, Matthew Renko, Price Suddarth, Ezra Thomson
Premiere: March 14, 2014
The gray tank tops and bottoms, the music, and the moves at the start of this piece made me think of the old Soviet posters. But the gray soon melted away as the partners touched each other longingly and sensuously and the music became more romantic. It was sweet and innocent.
Debonair
Preview Performance
Music: George Antheil ("Serenade for String Orchestra No. 1" 1948)
Choreography: Justin Peck
Costume Design: Reid Bartelme and Harriet Jung
Lighting Design: Randall G. Chiarelli
Dancers: Carla Körbes, Jerome Tisserand, Brittany Reid, James Moore, Margaret Mullin, Raphaël Bouchard, Jahna Frantziskonis, Price Suddarth, Angelica Generosa, Ezra Thomson, Leah Merchant, Eric Hipolito, Jr.
Premiere: November 7, 2014
This was my least favorite of the three dances. The first movement sounded a bit Coplandesque and the costumes took you back many decades but the dance itself was too traditional. It was a typical ballroom scene plunked in the middle of any full-length ballet. The moves were pretty but nothing stood out for me.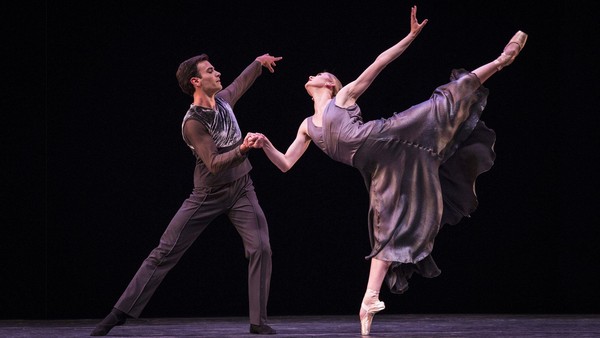 [These are not my photos.]
By Carene Lydia Lopez